SOLARBOOST 3
Run your ritual and burn more miles. A new colourway is available now.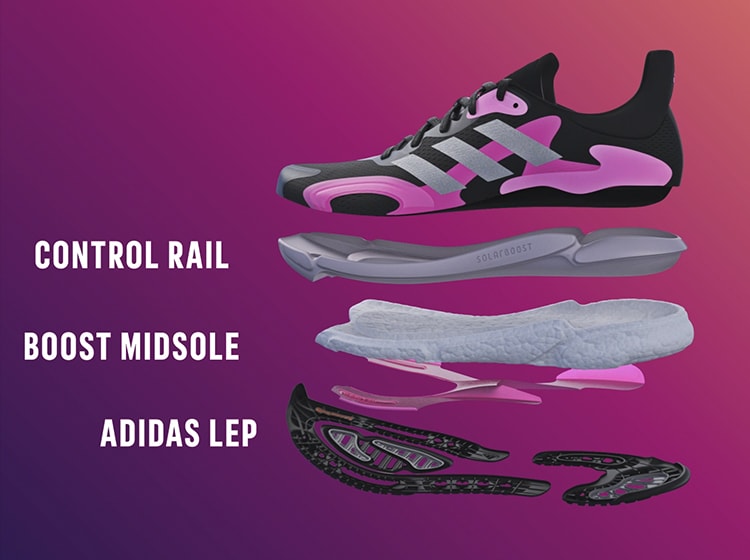 Define your ritual with SOLARBOOST 3. Everyone has their rituals, ours just burns more miles. Run with a fully surrounding Control Rail, Boost Midsole and adidas LEP. Tech you can trust for a run you can trust.
SHARE HOW YOU RAN WITH THEM
Share a photo after you've burned some miles with your SOLARBOOST running shoes and appear in our showcase. Make sure you tag your image with @adidas #Solarboost
SolarBoost
adidas SolarBoost – the versatile shoe for all your runs. Geared for long distances, this runner comes with distinct comfort and stability features yet is flexible enough to adapt to any foot shape. The Boost midsole is the most responsive adidas cushioning ever and gives you incredible energy return with every step. An all-round running shoe that will take you further and faster with less effort.
Running shoes for long distances
Get ready to go further with the SolarBoost running shoe. The flexible Stretchweb outsole made from Continental™ rubber gives you the best traction possible in wet or dry conditions. The Fitcounter heel supports your Achilles tendon while the Solar Propulsion Rail and Torsion System in the midsole guide your steps for a stable ride. A tailored fibre placement in the midfoot area offers even more support. The mesh upper is ultra-lightweight and durable: it will keep its form yet offers a snug fit for every size, adapting to your personal footstrike. Lace closures and a sock-like construction will ensure that your feet are held firmly to avoid blisters and abrasion even over long distances. The distinctive 3-Stripes and adidas logo on the tongue underline your brand affiliation.
SolarBoost running shoes for him and her
Pick from adidas SolarBoost women's and men's models in different colour patterns to fit your unique athletic style. Stand out from the crowd with contrasting colours: from the perforated black rubber bottom to the white outer sole and a mesh upper with discreet applications. Enjoy your ride in comfort and go further than ever before courtesy of ultra-responsive Boost cushioning. It's simple: the more energy you give, the more you get back. Compressive support provided by the built-in midsole and heel features will see you go the distance with the Solar Boost running shoe by adidas. Your run starts here!