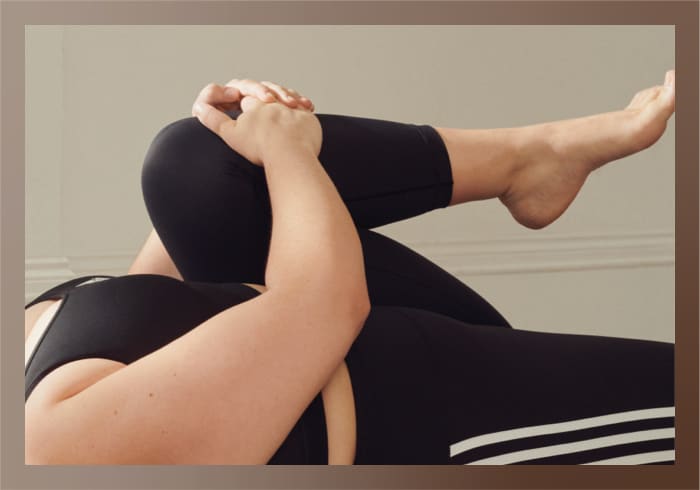 A CLOSE FIT FOR A FEEL-GOOD FLOW
As a beginner, Katerina finds having someone to follow in online yoga classes keeps her focused. Wearing a clothing set helps her feel good and ready to start. She prefers fitted clothing because it's easier to move between poses in. Add a water bottle, her mat and that's all she needs.
"Work out clothing can help you feel good in yourself and ready to start. I prefer fitted clothing for yoga, it's easier to move in and doesn't get in the way. Then I have a yoga mat and that's about it."
KATERINA OLWEN – NEW TO YOGA
YOGA EQUIPMENT FOR MEN
Laid-back confidence and sophisticated adidas style are at the heart of our yoga for men range. As yoga continues to grow in popularity, there's a need for yoga gear for men that delivers on comfort and style. Our range of yoga wear for men rises to that challenge with men's yoga trousers, shirts, shorts and accessories in definitive, strong colours. adidas styling is clean and simple, with 3-Stripes contrast strips, the ever-loved trefoil and our proud Badge of Sport graphic. Fabrics with Climalite and Climacool technology keep yoga men cool and dry, able to maintain focus without distraction.
Our yoga for men range features hoodies built for warm up and cool down sessions that feel super soft against the skin. Cocoon yourself away in funnel necks and long sleeves to get the most from your quietly focused moments in class. Fast-release zip design allows you to lose your outer layer quickly when the class moves up a level. We have yoga trousers for men cut from comfortable French Terry for easy movement through yoga positions, while gently ribbed ankle cuffs keep the look in place in demanding stretches. Men's yoga tights fit snug and secure to offer support for those who like a second skin feel. Breathable yoga shirts are cut in anticipation of dynamic overhead yoga stretches for a full range of moment. Stylish shorts come in a choice of lengths and they're crafted in stretchy fabric to accommodate workout moves.
Our yoga for men accessories features ergonomically designed BPA-free plastic water bottles. Easy to carry, they're robust and lightweight, with volume scales to track hydration. Lightweight yoga mats are comfortable and easy to carry with great grip to prevent slipping and sliding. An endurance kit bag with zip pockets and breathable shoe compartment stores keeps you ready to go in an instant.
Maybe you will also like: Yoga• Yoga Pants• Yoga Leggings• Yoga For Kids• Yoga Tops• Yoga Trousers• Yoga Shorts• Yoga Bag• Yoga Girls• Yoga Clothes For Women• Yoga Boys