Remaking a classic for planet conscious cyclists – adidas launches vegan cycling shoes
The Velosamba is a transformative shoe for city cyclists, helping you move seamlessly from your bike to the street without compromising on performance or style. And for 2022, the upper is now made from vegan and recycled materials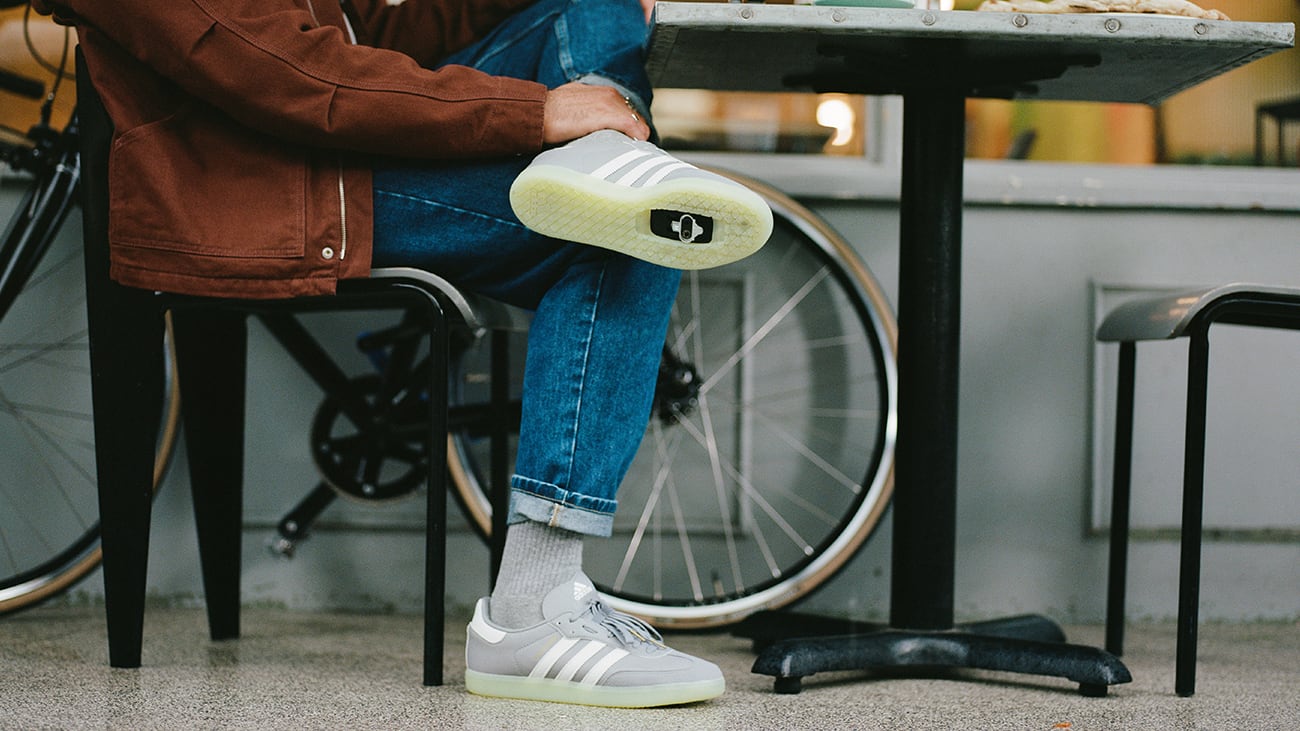 Leave home, clip in and pedal off. Weave through the city streets, trying new routes and seeing the sights, before arriving at your workspace or favourite coffee spot in better spirits than when you set out.
Cycling is more than just a means of transport – it's a way of upgrading city life. The streets are more vibrant and exciting when you're riding through them. Cycling gives you the freedom to rock up anywhere, without worrying about parking, traffic or the whims of public transport. It makes getting around cities swift, easy and exhilarating, while boosting body and mind as you exercise along the way.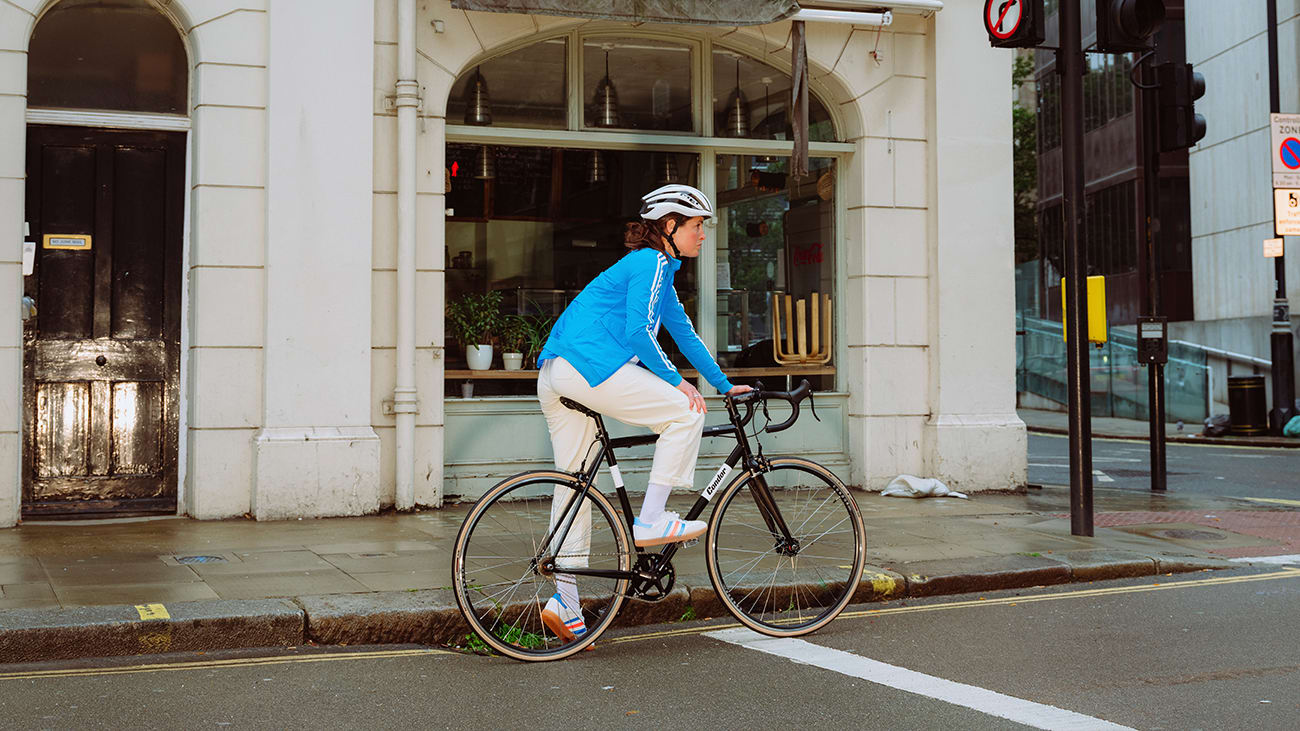 The Velosamba fits seamlessly into your day-to-day life
Cycling around the city is about easy riding and soaking up the atmosphere, not about chasing times. What you wear is a reflection of that. You want to look natural, as if you're wearing your everyday footwear. But you also want the technical capabilities of a top cycling shoe in order to ride as comfortably and efficiently as possible, and for the switch between saddle and street to be seamless, without the faff of a footwear change.
The adidas Cycling team created the Velosamba with that goal in mind, designing a cycling shoe for everyday use that is inspired by the iconic Samba. The Velosamba, which launched in 2021, has been updated to look and feel even better for 2022.
"We took the ingredients of the classic adidas Samba shoe and added the performance needs of cycling to it," says Alexander Bach, Footwear Developer at adidas Cycling. "We wanted to make a shoe that fitted effortlessly into everyday life, whether you're a bike messenger, cycle commuter or just use a bike as your preferred way of getting around town. The Velosamba was designed so you can look and feel like you're wearing a pair of stylish and comfortable trainers rather than a pair of serious-looking cycling cleats."
To achieve this, Alex and his team focused on creating a cycling-specific hybrid outsole; "We used a two-bolt cleat system, reinforced the plate across the full length and secured the heel fit to lock the heel in to maximise pedalling efficiency when you're on the bike. But we also ensured the shoe has an easy walking feel for the large chunks of time when you're not cycling and just going about your regular day".
The cleats are recessed into the top section of the sole, so the shoe sits flat and doesn't make a sound when walking. It retains the usual grippy sole of the classic Samba shoe, so you don't have to worry about slipping on wet surfaces.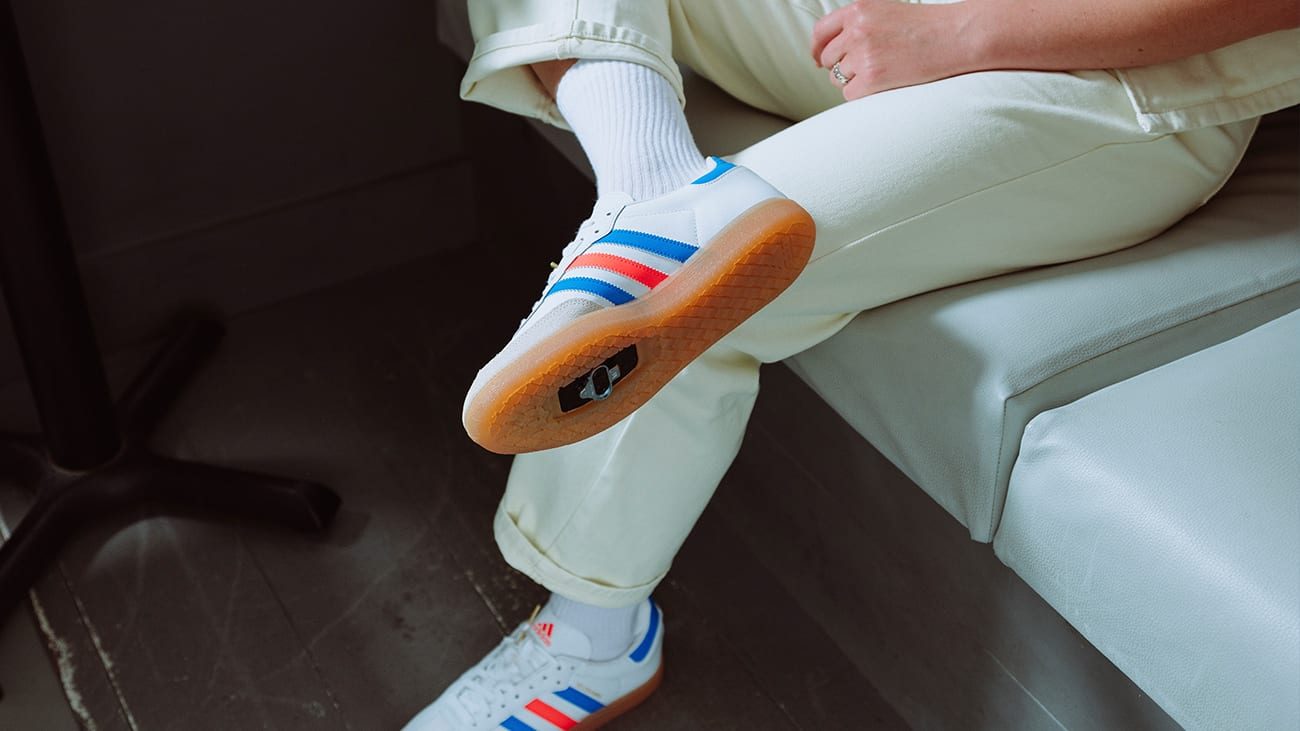 Riding for the planet
You love cycling because it brings fun, freedom and fitness into your life. You also ride a bike because you know it's better for the planet. Cycling seriously cuts your carbon footprint*, and because it has no exhaust emissions, you're doing your bit to reduce city air pollution
With the launch of the vegan Velosamba, adidas Cycling are proud to raise sustainability standards and introduce new, groundbreaking innovations.
For Alex and his team, it's a vitally important step. "As cyclists, we get it," he explains. "We're extremely engaged with environmental issues ourselves, and we know cycling consumers are looking for products that perform technically well but have also been designed with environmental and animal ethics in mind, and to minimise the impact on the planet's resources."
"We designed this innovative vegan upper with that focus in mind. Along with being animal-free, the upper of the shoe contains a minimum of 50% recycled materials and uses a polyamide made from regenerated material for the insole. It's part of the broader adidas ambition towards a fully circular future, and to reduce our reliance on virgin materials as part of that process."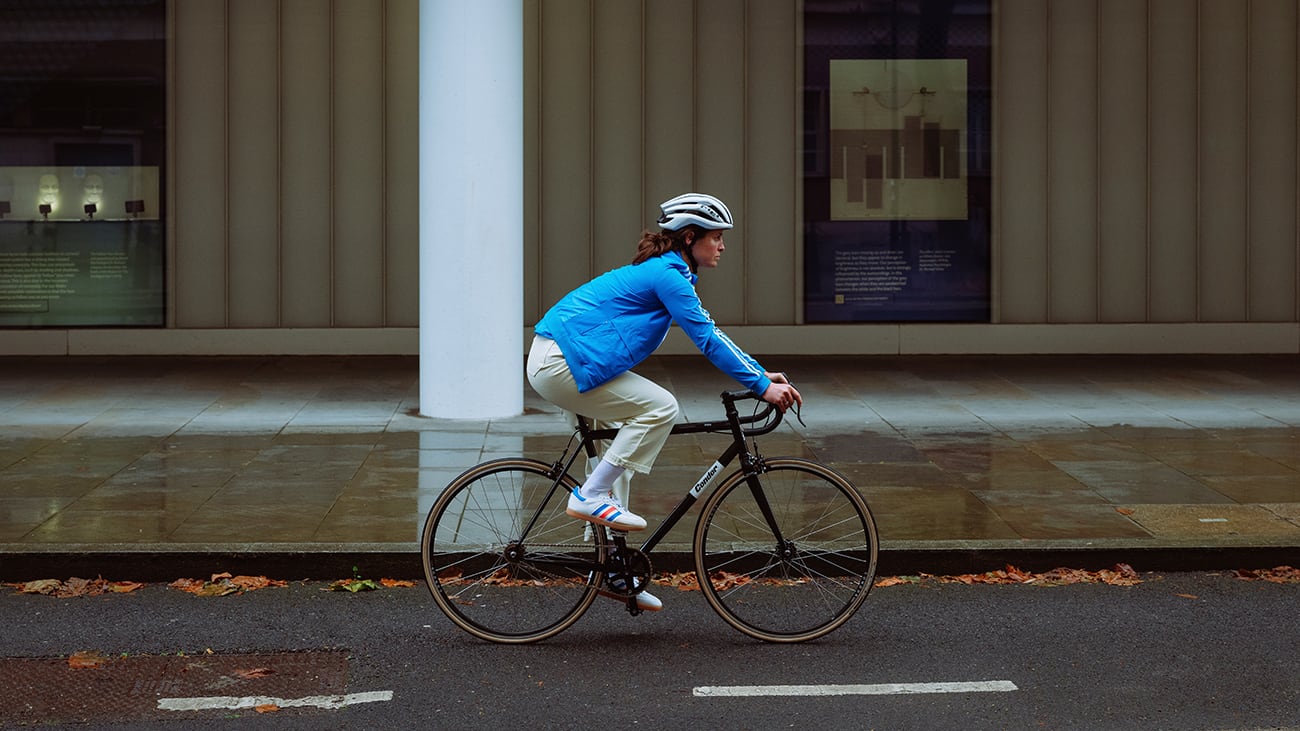 Navigating the city in style
With this launch – and moving forward – the Velosamba will always have a vegan upper, so you can choose a cycling shoe to match both your everyday aesthetic and your values, while having the confidence it will support you when you're riding hard on your bike.
See friends, run errands or make that environmentally-friendly commute in a cool city shoe without compromising on style, performance or integrity.
Most of all, enjoy the ride. We'll see you at the next set of lights.
Stay Updated
Be the first to know all about stories, launches and events.